Bon Voyage! 
Today we're on our way to the UK! It's the band's first tour over here, so if you've got any pals in England, Scotland, Wales, or Northern Ireland, you know where to send them! 
AUG 22 Camden, The Blues Kitchen 
AUG 23 Leek - Americana & Blues Preview 
AUG 24 Sticklebarn Sessions, Great Langdale 
AUG 25 Moniaive, Craigdarroch Arms 
AUG 26 Barnoldswick Music & Arts Center, Lancashire 
AUG 27 The Gallery at Woodend, Scarborough 
AUG 28 Bangor, Blue Sky Cafe 
AUG 30-SEP 1 Ulster American Folk Park, Omagh 
SEP 3 The Greystones, Sheffield 
SEP 4 Bristol, Hen and Chicken 
SEP 5 Boxmoor, Fishery Wharf Cafe 
*SOLD OUT* SEP 6 West Sussex, Sweet Sunny South Festival 
SEP 7-8 Lutterworth, The Long Road Festival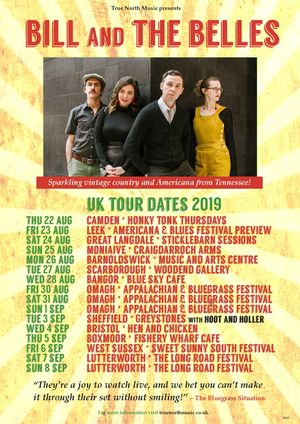 Found ourselves in a Roger Miller mood the other day (when AREN'T we're in a Roger Miller mood?) so we worked up one of his songs on a drive through Virginia. Click the image below to watch, and here's to walking in the sunshine! We'll see you back stateside in September for Bristol Rhythm and Roots Reunion where we're playing FRIDAY and SATURDAY. Cheerio!