Rolling Stone featured a single from our new album, "Happy Again!" 
Pre-order it today!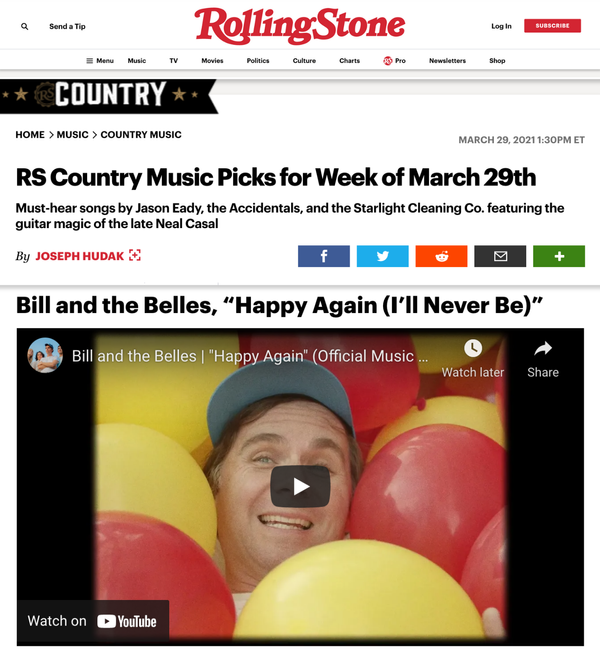 It's almost here! The new Bill and the Belles album you've been pining for (you have been pining, right?). And hot damn, what an honor to get a nod from Rolling Stone! The music video for the title track was shot by our friends at Cosmic Video, and we're stoked with how it turned out. Produced by Teddy Thompson, this new album "Happy Again" is bigger and better than anything we've done before! Like Rolling Stone mentions, it isn't exactly ~happy~ but it is undeniably chock full of life, humor, and tongue-in-cheek explorations of love and loss. We are thrilled to finally be sharing it with you! Watch our latest music video here (and subscribe while you're at it!). 
 "Happy Again" drops May 21st, and you can pre-order it now! Check out these two pre-order packages (see our webstore for more!): 
THE REALLY HAPPY PACK: This one is going make you more than pretty happy. We swear. You get a signed "Happy Again" CD, a T-Shirt that will make you smile, and a pin that will make you hungry. And a sticker. Rest assured that by purchasing the Really Happy Pack you will have made Bill and the Belles really happy. 
THE SUPER DUPER HAPPY PACK: This is it. The Super Duper Happy Pack. It's the whole kit and caboodle. A signed "Happy Again" CD, limited edition vinyl, limited edition T-Shirt, super cool pin, handwritten lyrics, and a sticker. It's Super. It's Duper. You need it almost as bad as we do.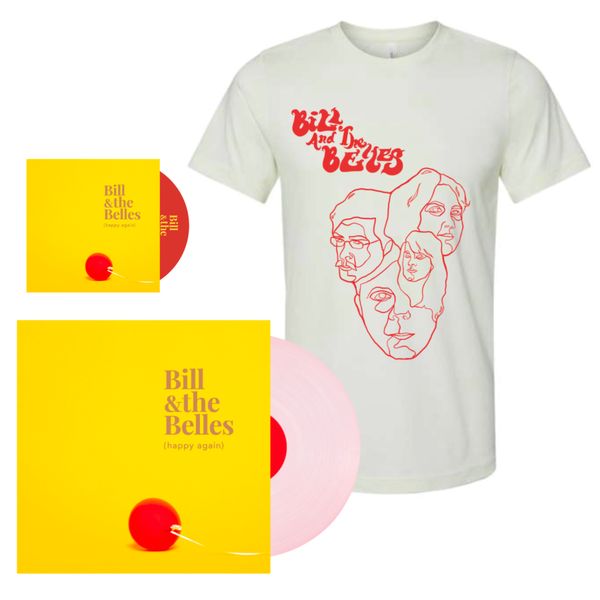 We recorded this album before the pandemic, and we've been working diligently to figure out how to get it to you! Releasing an album is dauntingly expensive, and to be honest we were banking on funding it through our biggest year yet of touring in 2020. No such luck! Like the rest of the world we've had to pause, reflect, and adapt. As a result, we're relying on your pre-orders to make this release possible! Over the years we've been routinely blown away by your support, and we're counting on it especially right now. The best way you can support us is to pre-order and pre-save "Happy Again." We can't wait for you to hear it! Thank you so much. 
Love, 
Bill and the Belles